ABOUT STAR GEMSTONES
In the gemstone world there are a special group of gems known as phenomenal gemstones. These are gems which exhibit special optical phenomena, including asterism (the star effect), chatoyancy (the cat's eye effect), adularescence (shimmering light) and iridescence (the rainbow effect). Since these phenomenal gems are fairly rare, they naturally attract the attention of collectors. In some cases all or most of the gems belonging to a particular variety display the phenomenon, in the way that most moonstone exhibit adularesence. But in other cases the optical effect is found only occasionally in a particular type of gem, and it is the rare cases that are of special interest to collectors.


Asterism or the star effect is an example of an optical effect found very rarely in a small number of gem types cut as cabochons. The most famous examples are star sapphire and star ruby. But asterism may also be exhibited by moonstone, quartz, spinel, citrine, diopside, emerald, garnet and chrysoberyl. The reason that asterism is so rare is that it requires the gem to have inclusions of rutile needles, and for the needles to be aligned in such a way as to reflect light in a multi-ray pattern forming a star. The usual rule of thumb in gemstones is the fewer inclusions the better. But this is a case where the value is enhanced by the right sort of inclusions.


The value of a star gemstone depends on the clarity and distinctness of the star. Generally the star must be evaluated using a single source light such as a penlight; it is usually very difficult to see the star under diffused light. Moving the light back and forth should cause the star to move across the stone's surface. The rays of the star should be evenly distributed and the rays should be relatively straight. The most common stars are 4-ray and 6-ray, though 12-ray stars have been seen.


Color is also very important in a star gemstone. Ideally the color should be equivalent to a non-star specimen of the gem, but the presence of rutile in the stone tends to weaken the color. So in the best case there is enough rutile to create a distinct star while minimizing the effect on the color. Burma and Sri Lanka are the most important sources for star ruby and star sapphire, though Thailand is famous for the black and gold star sapphires found only in Chanthaburi province. Some star sapphires are produced using a diffusion treatment, where the sapphire is heated with a coating of titanium dioxide which diffuses into the corundum and creates rutile needles.


Synthetic star sapphires were first produced in the late 1940's by Linde, a division of Union Carbide. They are currently produced in Japan by Nakazumi Earth Crystals. The synthetic gems tend to have perfect color and star so vivid and straight that it appears painted on the stone.
_________________
DUM SPIRO SPERO



Broj poruka

: 10681


Points

: 16033


Reputation

: 131


Datum upisa

: 14.12.2010


Godina

: 99


Lokacija

: Pala s Marsa



GEMSTONE SHAPE AND CUT: IS THERE A DIFFERENCE?

In the gemstone world we are taught that shape and cut are different concepts. But the difference isn't always obvious. Is a trillion a cut or a shape? The term cushion cut clearly suggests it refers to a cut. But the word cushion is a shape term -- it means shaped like a cushion or pillow.


The same goes for pear. It seems obvious that it's a shape. So why do we say pear-cut when we refer to a gemstone in the shape of a pear? It all sounds rather confusing. Maybe trying to distinguish between shape and cut is not such a good idea after all.


Even if our everyday speech is a little loose, there actually is a point to the distinction between shape and cut. Understanding the difference between shape and cut helps us understand what gem cutting is all about. So let's see if we can make sense out of the confusion.

Consider round gemstones. Looking at our inventory of round shape gems, we find a number of different round stones: some are cut as cabochons, with no facets at all. Some are faceted in the traditional way, in the so-called brilliant cut. Yet others are cut with a very different faceting technique, called the concave cut. Yet others have what is called the portuguese cut.

So we have one shape -- round -- and multiple cutting styles. Though we sometimes use the phrase round-cut, it's obvious from our example that this phrase doesn't make a lot of sense. We need to say round portuguese cut or round cabochon, and so on.


The meaning of the concept of shape should now be fairly obvious. A shape is the face-up outline form of the stone, whether it be round, oval, square, rectangular, pear, marquise or trillion. Given a stone of a certain shape, a gem cutter or lapidary can decide to cut that gem with different styles of facets, or no facets at all.

At the simplest level, we can distinguish the plain cut from the faceted cut. A plain cut has no facets, and may be executed as a level tablet (as in agate) or with a domed top like a cabochon. A faceted cut has a number of separate small planes. There are also mixed cuts which combines the two; for example, a gem with a faceted pavilion and a plain crown.


There are many different facet cuts, but they can be distinguished according to the shape of the facets. There are three basic types: brilliant cuts, with mainly rhomboid and triangular facets in a radial pattern; step cuts with trapezoid or rectangular facets in concentric rows; and mixed cuts combining both brilliant and step-type facets. A detailed description of the various facet cuts can get quite complicated and technical. There are at least six well-known variations on the 56 facet brilliant cut, with different proportions for the facets. Then there are variations on the brilliant cut, with additional facets.
_________________
DUM SPIRO SPERO



Broj poruka

: 10681


Points

: 16033


Reputation

: 131


Datum upisa

: 14.12.2010


Godina

: 99


Lokacija

: Pala s Marsa



GEMSTONES CUT
Stones either are cut with facets, or are non-faceted, such as the cabochon cut. The cabochon cut is a facetless cut that produces a smooth surface. Usually, this is a rounded dome shape, or sometimes a squarish dome shape. Cabochons are growing in popularity again, as many people prefer the more subtle, softer look of the cabochon. Some gem lovers claim cabochon cuts have stronger, healthier colors.
Of course, stones are more commonly cut with facets. The angle, number, and placement of the facets are carefully planned to insure the largest amount of life is reflected within the stones body. This will insure the stone's color and brilliance will be displayed at their fullest advantage.
The way a stone is cut probably has the greatest impact on the stone's beauty. The most popular fashioning methods of colored gemstones may be divided in four categories:
• Brilliant-Cuts
• Step-Cuts
• Mixed-Cuts
• Cabochon
BRILLIANT-CUTS
The brilliant cut is popular for many colored gemstones. It ensures that maximum light is reflected out through the front (table) giving brightness and fire.
Heightening light refraction, the brilliant has many facets. Oval produces a larger appearance from a smaller carat weight.
STEP-CUTS
Variations are square, octagon, some ovals, baguette, and other table cuts. This cut is often known as the "emerald cut" and is intended to intensify a stone's color.
MIXED-CUTS
Mixed-Cut stones are usually cut as brilliants, with the pavilions step-cut. Sapphires and Rubies, and most transparent color gemstones are cut in this style. Variations are the cushion, pear or teardrop, plus some oval cuts.
CABOCHONS
Dark-colored stones gemstones, including those that are translucent or opaque, such as opal and jade and are often polished rather than faceted. This cut is also used to produce such effects as cats-eye and star effect. In addition, stones that are heavily included may be cut in a cabochon cut as it is a better cut for hiding these unattractive inclusions. Cabochons have a smooth, rounded surface with no facets. The bottom of the stone is flat or nearly flat.
Poslednji izmenio Gretta dana Uto Sep 04, 2012 8:31 pm, izmenjeno ukupno 1 puta
_________________
DUM SPIRO SPERO



Broj poruka

: 10681


Points

: 16033


Reputation

: 131


Datum upisa

: 14.12.2010


Godina

: 99


Lokacija

: Pala s Marsa



INCLUSIONS IN GEMSTONES

Most gemstones will have tiny natural irregularities called inclusions. Most inclusions are not visible with the naked eye, usually you need to use 10X magnification to see these inclusions, however larger ones can be seen with the unaided eye. These irregularities may be substances such as an unfilled cavity, a small crystal, a fracture, or a growth pattern within the gem.

Inclusions can be divided into three categories:
[
u]Cavities:[/u]
These may be formed during the gems primary growth or its later growth. These inclusions can be filled with combinations of liquid, gasses, or solids.

Growth Phenomena:
A few examples of this are solid crystals, natural glass, and limonite tubes (hollow channels stained by iron compounds).

Solids:
A few examples of this are solid crystals, natural glass, and white mica inclusions.
Most gemstones will have some inclusions, and some stones have more inclusions than other stones. For example, emeralds are known to be much more included than sapphires. Here is a table that lists the basic inclusion frequency in common gemstones.



_________________
DUM SPIRO SPERO



Broj poruka

: 10681


Points

: 16033


Reputation

: 131


Datum upisa

: 14.12.2010


Godina

: 99


Lokacija

: Pala s Marsa



GEMSTONE CLARITY
Clarity refers to the internal flaws (inclusions) or the external blemishes of a stone. A flawless colored gemstone is rarer than a flawless diamond. However, even though clarity is important, it does not carry the premium that perfection has with diamonds. For example, a valuable emerald will be heavily included, as the natural process of emerald formation is violent, resulting in many natural flaws in even the most expensive of emeralds. In addition, lighter colored stones need to be cleaner, as their flaws show up more easily. Darker colored stones can hide their defects easier because of the depth of their color.

The location and the type of the inclusion or blemish is what are important with colored stones. For example, if there is a large crack on the surface of the stone, this can interrupt movement of light through the stone, and it may weaken the stone's durability. A large crack would probably detract from the stone's beauty and reduce its value. However, if the crack is small and positioned in a less noticeable area in the stone, then it will not affect durability, beauty, or price as much as a prominent flaw.

Inclusions may be also used to identify the origin of a stone. For example, Burmese rubies have unique inclusions such as unusual crystal formations that will identify the stone as having a Burmese origin. African rubies will not have these unique inclusions, but will contain their own unique inclusions, as the geological processes of their formation were different from their Burmese cousins.
_________________
DUM SPIRO SPERO



Broj poruka

: 10681


Points

: 16033


Reputation

: 131


Datum upisa

: 14.12.2010


Godina

: 99


Lokacija

: Pala s Marsa



ABOUT GEMSTONES
A gemstone or gem (also called a precious or semi-precious stone, a fine gem, or jewel) is a piece of mineral, which, in cut and polished form, is used to make jewelry or other adornments.[1][2] However certain rocks (such as lapis lazuli) and organic materials (such as amber or jet) are not minerals, but are still used for jewelry, and are therefore often considered to be gemstones as well. Most gemstones are hard, but some soft minerals are used in jewelry because of their luster or other physical properties that have aesthetic value. Rarity is another characteristic that lends value to a gemstone. Apart from jewelry, from earliest antiquity until the 19th century engraved gems and hardstone carvings such as cups were major luxury art forms; the carvings of Carl Fabergé were the last significant works in this tradition.
For Jane Austen, matrimony was as much a financial transaction as an emotional one, with everyone trying to get the best possible bargain. Buying a gem is also the beginning of a life-long relationship and the price you pay is part of the deal. Understandably, you don't want to pay too much. So how can you tell if you are paying the right price?
First of all, don't ask how much you should pay for a one-carat ruby. A one carat ruby can be worth ten dollars or it can be worth $10,000. Quality makes the difference. Fortunately you can see differences in quality if you look at a lot of rubies side-by-side. Better color costs more, a lot more. Better clarity costs more. Better cut may cost a little more but it is worth it! The bigger the stone, the more it is per carat. Within each variety, prices are based on these four Cs, with color as the most important factor.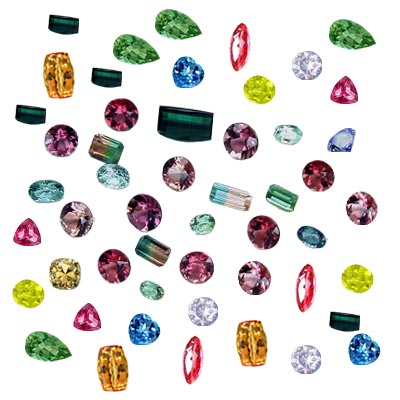 But different varieties have different price ranges. This is where the prejudice comes in. Some varieties are lower in price because they are readily available, some because the color isn't very popular (brown and yellow stones, for example), some because the material is relatively soft, and some because ...they have all the right stuff but no one knows it. There are plenty of examples of beautiful rare gemstones that cost less than gems that are less rare because they have a funny name, or people get them confused with an inexpensive variety or no one has ever heard of them. But enough about the injustice of the gem market.
We can break the price ranges of the different gem varieties down into five basic categories: traditional gemstones, new classics, connoisseur gems, collector gemstones, and affordable gems. These categories have basic price ranges, but, again lower quality stones or stones with less popular colors may cost less and stones with particularly fine quality or color may cost more. These price ranges are meant to give you a general idea of the relationship of prices between different kinds of gemstones and not to serve as a price list, since color and quality can make such a difference.
The traditional gemstones are ruby, emerald and blue sapphire. Because of their lasting appeal and distinguished history, ruby, emerald and sapphire are more valuable than other colored gemstones. Generally, ruby and emerald are also priced higher than a comparable quality sapphire due to rarity. For a one-carat stone of average to good quality in the varieties in this category, you can expect to pay between $250 and $10,000 per carat. Of course truly fine gems will cost more.
The new classics are gemstones that are the rising stars of gemstone jewelry: tanzanite, tourmaline, aquamarine, imperial topaz, and tsavorite garnet. These gemstones are sometimes available in standardized sizes but you really should look at some fine larger single stones to see why they have so many fans. Gems in this category range between $50 to $1,000 per carat for an average to good quality one carat stone, with a good example of tsavorite easily reaching $3,000 per carat.
Connoisseur gems are gemstones that have a more specialized market because they are more rare. These gemstones include black opal, jadeite, pink topaz, chrysoberyl cat's-eye, fancy colored sapphires, and rare stones like demantoid garnet and alexandrite. These gemstones are highly prized and prices range from $250 to $5,000 per carat, although alexandrite with a good color change will command at least $10,000 even in a one-carat size.
Collector's gems are not available in quantity to be marketed effectively so you get a lot of beauty for the money. This category includes spinel, zircon, moonstone, morganite and other beryls, and many rare gemstones. Red and hot pink spinels can command a few thousand per carat but most of the gems in this category will sell for hundreds not thousands.
Then there are the affordable gemstones, which combine great color with a surprisingly reasonable price and good availability. These gems include some old favorites and some new gems: amethyst, white opal, citrine, ametrine, peridot, rhodolite garnet, blue topaz, iolite, chrome diopside, kunzite, andalusite, and many ornamental gemstones such as lapis lazuli, turquoise, onyx, chrysoprase, nephrite jade, and amber. Prices for these gemstone range between $5 and $100 per carat for a one carat stone.
In every variety, especially the more expensive ones, you should expect to pay more for matched pairs, sets, and special shapes and cuts.
Poslednji put izmenio Gretta dana Čet Sep 04, 2014 6:56 pm, izmenio ukupno 2 puta
_________________
DUM SPIRO SPERO



Broj poruka

: 10681


Points

: 16033


Reputation

: 131


Datum upisa

: 14.12.2010


Godina

: 99


Lokacija

: Pala s Marsa





Similar topics
---
Dozvole ovog foruma:
Ne možete
odgovarati na teme u ovom forumu